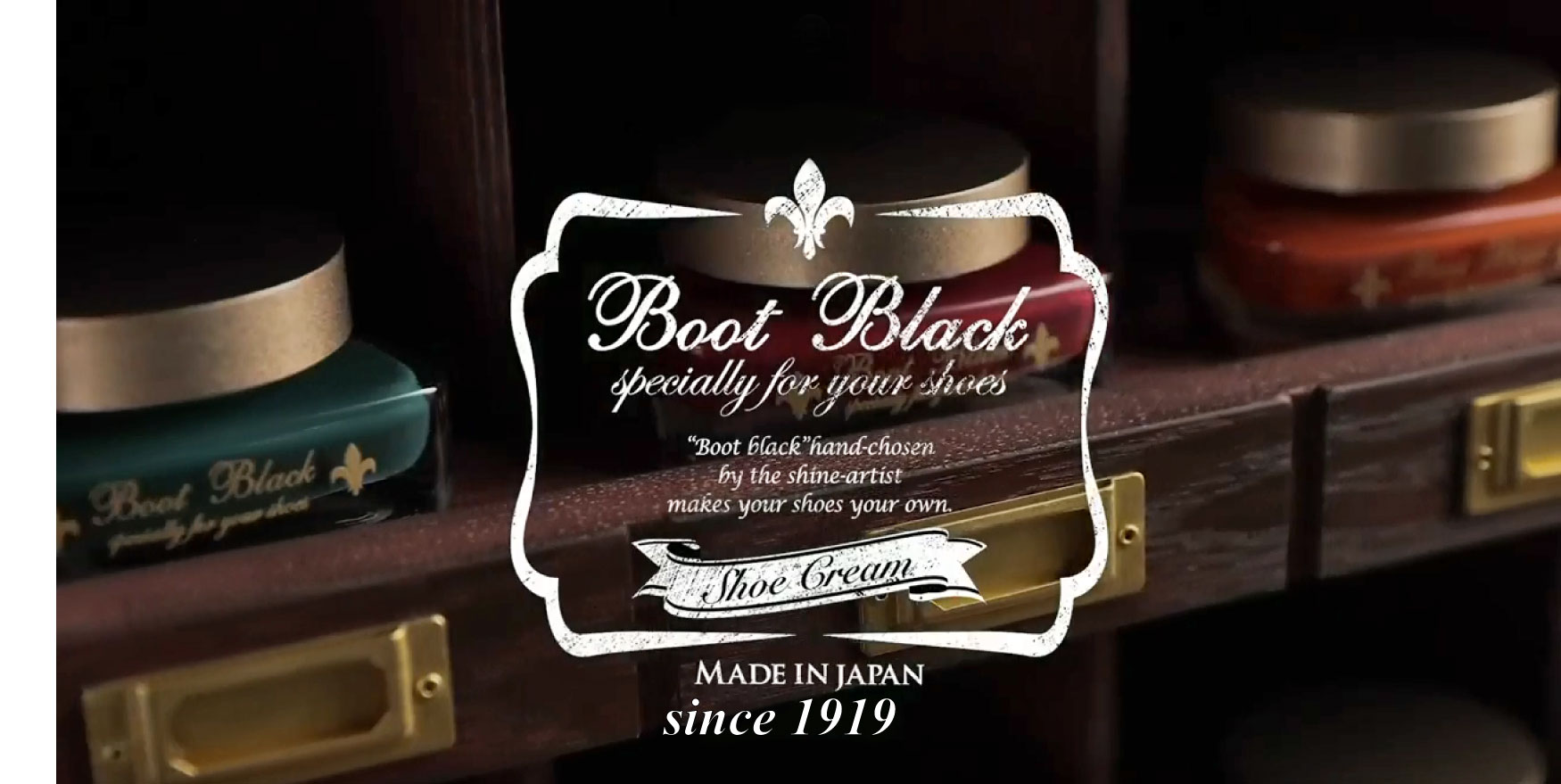 Shoe care – the answers to frequently asked questions – FAQ
There is
shoe creams and special creams
shoe waxes
High gloss and mirror finishes
Leather creams and
Care-/moisturizing lotions
Types of shoe cream:
solvent-free shoe creams for hydrophobized leathers
solvent-based shoe polishes with water content
solvent containing shoe creams without water content on pure oil basis
Hydrophiertes = water-repellent wetted leather, often used for boots and hiking boots;
solvent-containing shoe polishes are not suitable for its care, as they would attack and possibly destroy the wetting
with the consequence that the leather would no longer be water-repellent.For the care of leather shoes shoe polishes with solvents are best,
because it helps that the shoe polish is a finer mixture and to increase its penetration depth into the leather by approx. 1/4.
This also supplies oil to deeper leather layers, but in particular more colour pigments (colour powder)
deeper, i.e. more can be stored – this considerably improves the colour coverage of the shoe polish = more intensive colour refreshment.
Shoe polish quality of solvent-based shoe polishes:
This is essentially determined by the following cream components
Type, fineness and quantity of color pigments such as nano color pigments or water-soluble (color powder)
Type, quality and quantity – means: proportion of the mixture shoe polish – of the oil and its special properties such as argan oil
.
Type, quantity and quality = know-how of the wax mixture – there is not only bee and carnauba wax
solvents – the great secret of shoe polish manufacturers
All comparative tests of shoe polishes known to me are deficient, and thus more than 90 % of all, which one finds in the Internet, were arbitrarily written by the respective authors so and it is not even a comparison test or a laboratory analysis available for these – thus consciously in favor of certain companies manipulated results.
Deficitory because no distinction has even been made between pure shoe polish brands that do not have their own product development including all the necessary laboratories,
and genuine manufacturers.
Furthermore, the shoe polishes presented for comparison were randomly selected, and thus not all shoe polishes available on the German market, for example, were included.Thirdly, there were test specifications as for example under ecological points of view, which falsify the "test" result.
I am not aware of a single objectively verifiable shoe polish test report, neither in German nor in English.
Boot Black products were tried out by a blogger and an experience report was published;
the author had something to criticize about every single Boot Black product, which from my point of view suggests that he is not particularly adept at dealing with Boot Black products or shoe care products in general,
and the nature of his report suggested that he had forgotten to point out to readers that his events were from AVEL S.A. when writing them, the manufacturer of Saphir Medaille d'Or, and competitors of Columbus,
as main sponsor.
Hint:
I also sell the series Saphir Medaille d'Or in my Ebayshop and have used it for about 20 years.
My personal evaluation of shoe polishes subject to those I do not know:
Place 3: Cirage Crème Saphir Medal d'Or
Place 2: Boot Black Shoe Cream with a wafer-thin projection
Place 1: Artist Palette No 1 by Boot Black = STATE-OF-THE-ART
Shoe polish or shoe wax?
Depending on the desired gloss, the shoe polish is completely sufficient, the Artist Palette No 1 produces a far higher gloss with more intensive colour refreshment,
because it contains extremely finer colour pigments and a higher wax content.It can even be polished with water as shoe polish(!) after 3 or 4 wafer-thin layers!
Shoe wax can be used if you want to achieve a particularly high gloss – then you can create a mirror gloss with a few drops of water
and if necessary the Polish Water with the Shoe Polish, which points the MIRROR GLOSS from Saphir locker & slightly into the barriers.
But you should also know that all coloured Shoe Polishes, the shoe waxes of Boot Black, completely cover the scars:
You can no longer see the leather surface:
Defacto already offers the Shoe Polish, the shoe wax, already the Mirror Gloss at Boot Black.
This is the main difference to the much cheaper shoe waxes of other brands or manufacturers, which are not suitable for this,
because they contain hardly any colour pigments.
In addition, the Shoe Polish layers remain elastic to a certain extent – they do not break as easily, i.e. no wax crumble,
as the shoe waxes of other brands, which were bred up by means of an extremely high solvent content on light application with fast shine,
but without intensive colour formation.
The thickness of a shoe wax layer on a shoe is usually slightly thicker and harder
than the wax layers on the leather after a shoe polish application.
A good protection against heavy impacts does not really develop either – but the High-Shine Coat would be recommended,
because its wax layers or wax layers on the toe and around the heel are much harder.
The care of new shoes:
New shoes, especially if they have been in the shoe box for 1 or 2 years, always have a relatively dry leather,
its moisture content should be increased to prevent a strong or steep crease formation.
this is explained by the fact that a leather with 30% water content would be very elastic and could be stretched in length and width;
but this would cause great problems when cutting or punching out the upper or individual parts of a bag,
which is why the tanneries deliberately deliver their soles with a moisture content of around 15% to make their work easier.
Therefore, it is recommended to use a colourless moisturizer before wearing for the first time,
before applying the first cream – I would strongly advise to do the first 4, 5 coats only with shoe polish, + moisturizer,
and to omit the shoe wax completely.
Shoe cream – leather cream
The difference lies in the lack of wax in the leather creams, so that a leather rubbed with them does not just shine and
due to the lack of wax layer cannot cause abrasion on the clothing.Leather creams are also always colourless.Ergo is a leather cream like Delicate Cream suitable for shoe care, e.g. of ostrich leather, which looks matt better.
A colour refreshment of the purse, briefcase or belt is done with a coloured shoe polish and
instead of polishing it, the remaining wax layer is then removed with the Delictae Cream.After airing, drying, rub briefly with a cotton cloth – that's it.
The right color of a shoe polish?Foolish advice such as a lighter or darker tone or statements about the colour of the shoe polish would not have any influence on the care result testify to the deficits of the people who give and publish such advice.
There are shoe polish brands that offer very few shoe polish colors – say 10 or 12, so you can't even come close to covering the color spectrum of shoe colors.
So the advice is to buy a different color.The Shoe Cream by Boot Black is available in 37 different colors – 22 in stock and
the Artist Palette No 1 in 20 colors and all available here.This range of colours should be sufficient to deliver 99% of all desired colours immediately.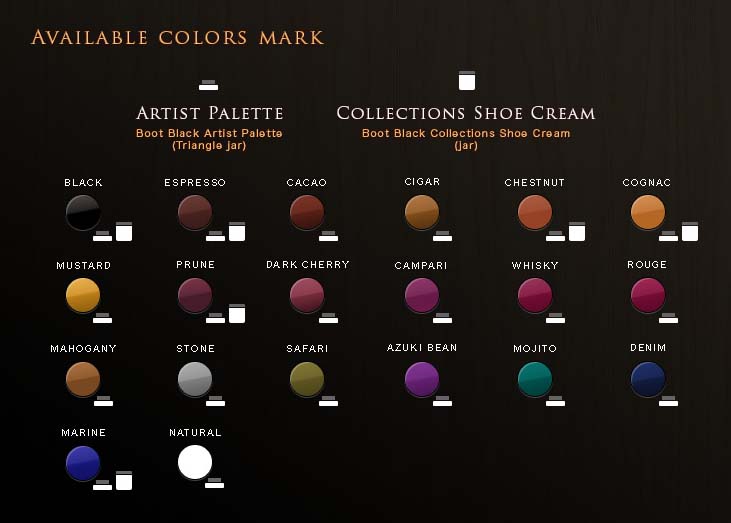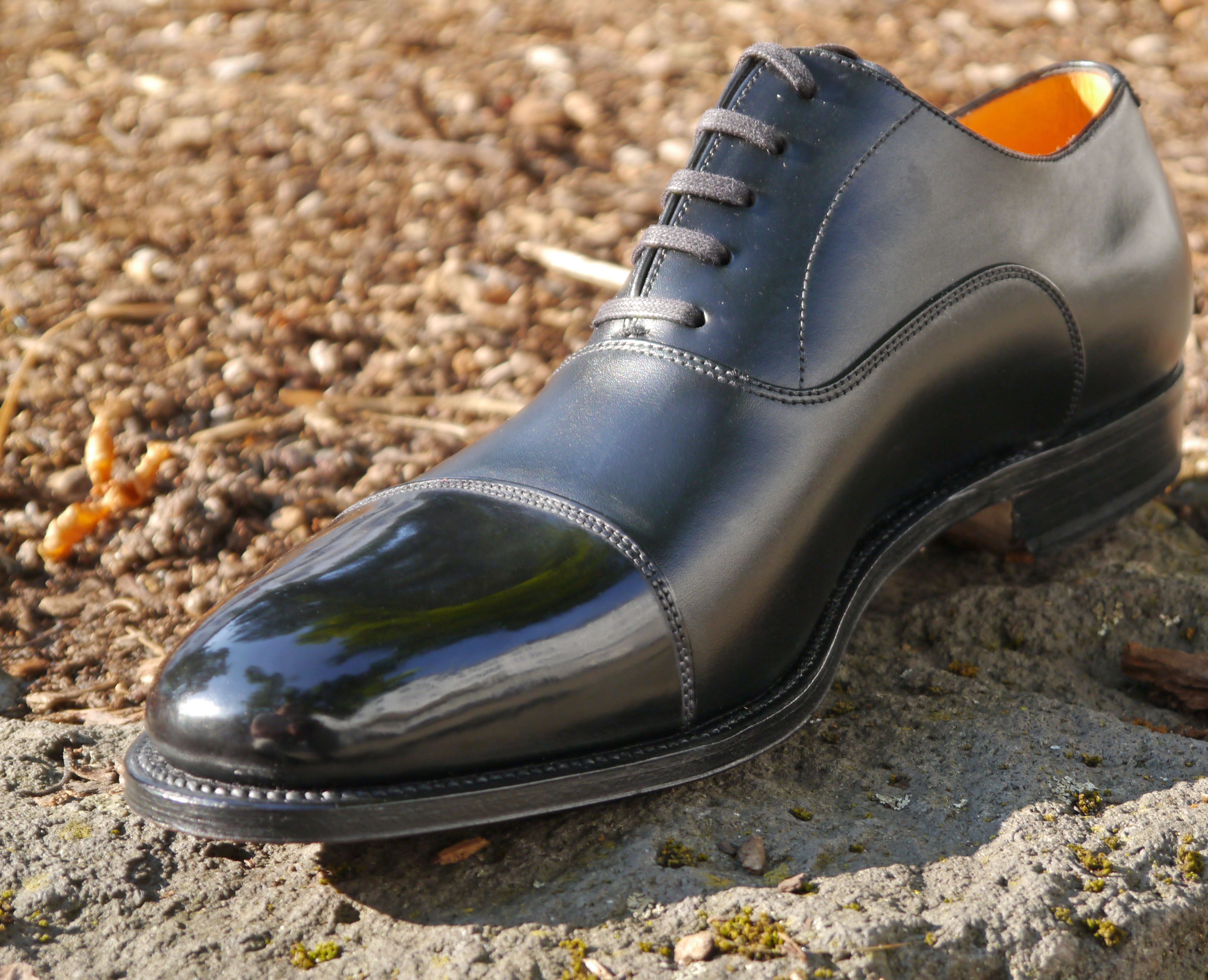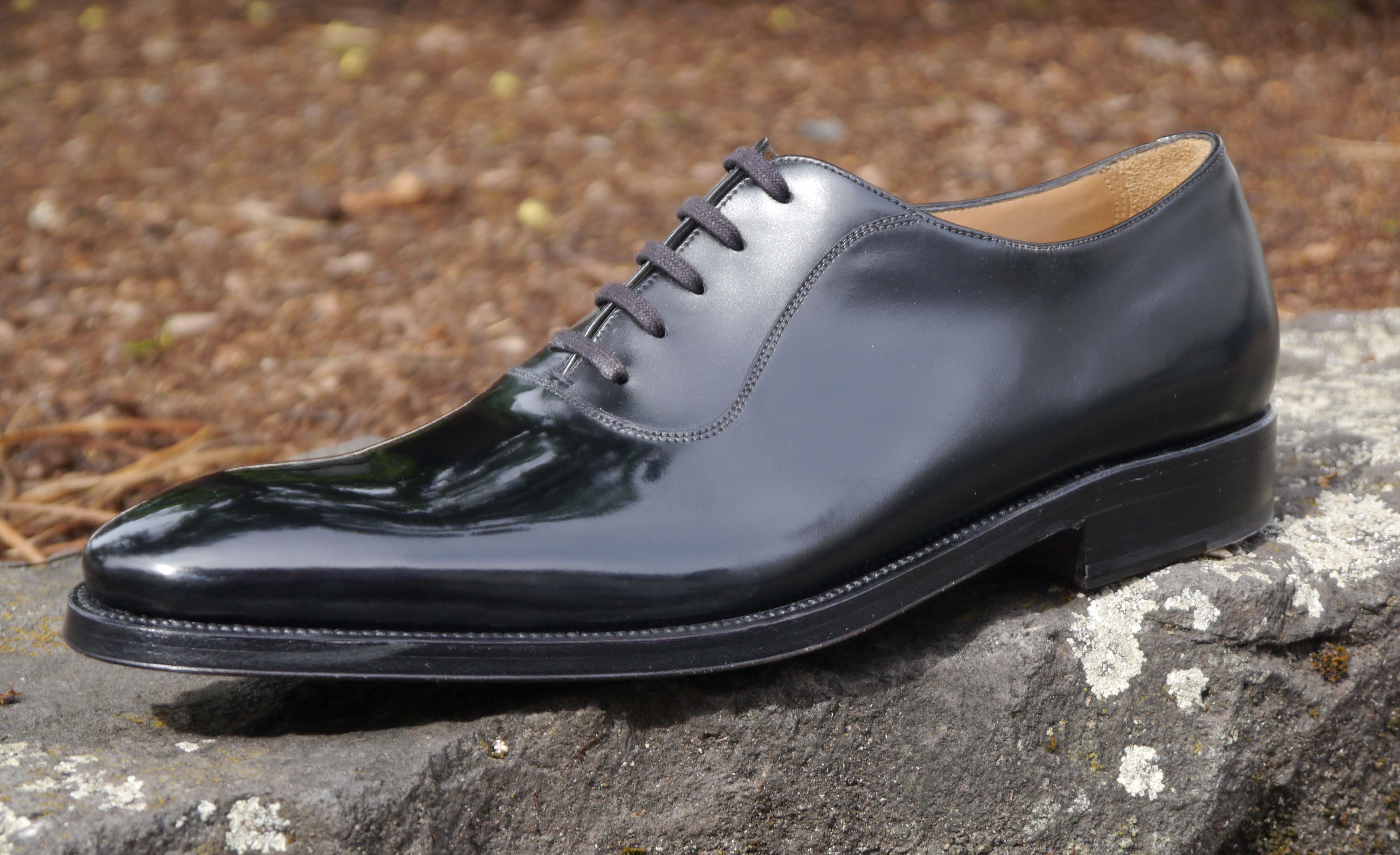 patina, antique finish
These shoes show that – if you have the leisure – you can give your shoes a completely different look in a few minutes,
which can be undone at any time with a leather cleaner.
Mirror Gloss and high gloss polishes
There are at least 3 ways to produce a high gloss – for the mirror gloss, the mirror gloss 2 ways:
With high gloss the leather surface remains visible:
easy to achieve via Artist Palette No 1 plus hand polish or via water polish
or
by application of the colorless shoe wax, the Shoe Polish.
or
with the colourless coating from the High-Shine series, it generates by far the hardest wax layer on the shoe.
The mirror finish can be made with the shoe wax, the Shoe Polish, or the two coloured coats from the High-Shine series.
The Suede Cleaner Spray is recommended for regular care because it cleans easily but not intensively; the oil remains untouched in suede leather.
Spraying – Brushing – Suede Spray, either coloured or neutral,
depending on the age of the shoes, for the purpose of hydration,
so that the leather remains flexible and the colour is refreshed if necessary.
intensive cleaning of all leathers:
This is best done with LEATHER shampoo, a liquid leather soap that not only cleans but also
lowers the pH value of the leather back into the range 4.5.It is suitable for all leathers including suede leather and nubuck
Due to the intensive cleaning and the associated loss of oil in the leather
an after-treatment with a moisturizing lotion is essential in any case.
If you have questions about shoe and leather care, please send me an e-mail.
Please understand that I cannot answer all possible care questions here.